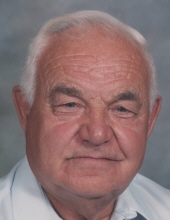 Obituary for William S. Hopkins
William S. Hopkins, 91, of Waynesburg, PA, died at 8:45 AM Wednesday, March 28, 2018, in the Waynesburg Healthcare and Rehabilitation Center in Waynesburg.
He was born Thursday, January 06, 1927 in Sycamore, PA. He was the son of the late William L. Hopkins and Nellie Conklin Hopkins.
Mr. Hopkins was a member of the First Baptist Church of Waynesburg. He was also a member of the Waynesburg Moose Lodge #461. He enjoyed working with his cattle and spending time with his dogs. Years ago Bill worked with his brother on the railroad. He then worked as a laborer and helped build the Long Building in Waynesburg with the Rota Brothers Construction in 1946. He then worked as a laborer and helped build the Preston Sub Station and then went to work for the New York State Gas Company for 20 years which is now Dominion Gas. In 1968 he started Hopkins and Sons Contracting and owned and operated the business for 40 years retiring in 2008. He was best known for demolition, house moving, and doing concrete work. He was also the caretaker for Greene Mount Cemetery for several years as well as serving on the Cemetery Board.
He is survived by his Wife: Mary Louise Cox Hopkins, whom he married on August 24,1947.
Also surviving are 3 Daughters: Marsha A. Hopkins, of Waynesburg, PA., Helen Mooney and her husband Robert, of Waynesburg, PA., and Thelma J. Hopkins, of Waynesburg, PA.
4 Sons: David S. Hopkins, and his wife Linda of Waynesburg, PA.,
James E. Hopkins, and his wife Vickie of Waynesburg, PA., Daniel C. Hopkins and his companion Christy, of Waynesburg, PA., Richard W. Hopkins, and his wife Deloris of Waynesburg, PA., 16 Grandchildren, 30 Great Grandchildren, 17 Great Great Grandchildren, Several. Step Granddaughters, and Several Step Great Grandsons., 1 Sister:
Lillian Ulrich, of Waynesburg, PA., 2 Brothers: John C. Hopkins, of East Earl, PA., and David L. Hopkins, of Uniontown, PA.
and several nieces and nephews.
Deceased are 1 Son: Michael Lee Hopkins, 2 Grandsons: Bobby Lee Richard and Nicholas Brian Hopkins, 1 Great GrandSon, and 1 Great Great Granddaughter, 3 Daughter In Laws: Patty Hopkins, Linda Hopkins, and Joyce Hopkins, 4 Sisters:
Aldean Sanders, Evalena Malmgrem, Eleanor Sagges, and
Hazel Hadrick, 3 Brothers: Dennis Hopkins, Robert Hopkins, and
Wallace Hopkins, 1 Half Sister: Helen Bradley, and 2 Half Brothers: Delmont Conklin and Earl Hopkins.
Friends will be received from 4:00 PM to 8:00 PM on Friday, March 30, 2018 and 2:00 PM to 4:00 PM and 6:00PM to 8:00PM on Saturday, March 31, 2018 in the Milliken and Throckmorton FH, Inc. Daryl L. Throckmorton Owner/Director,197 N. Maiden St Waynesburg, PA 15370. Where services will be conducted at 11:00 AM on Monday, April 2, 2018 with Rev. Dr. Donald Wilson officiating. There will be no visitation on Easter Sunday, April 1, 2018. Burial will be in Oakmont Cemetery, Waynesburg, PA. Information is online at www.milliken-throckmortonfh.com.