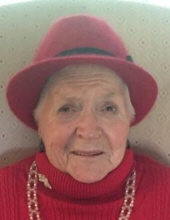 Obituary for Nellie Arlene Haines
Nellie Arlene Rogers Haines, 84, of Waynesburg, PA, died at 9:30 AM Monday, July 31, 2017, in the Washington Hospital.

 She was born Friday, August 19, 1932 in Jefferson, PA. A daughter of the late Samuel Rogers and Lillian (Leach) Rogers.

  Mrs. Haines was a member of the First Christian Church of Carmichaels but had been attending the First Church of the Nazarene in Waynesburg. She was a member of the Red Hat Society, and a member and President of the Peer Group at Waynesburg Health and Rehabilitation Center. She enjoyed cooking, baking and spending time with her family, especially her grandchildren. She worked as a cook at the former Iron Griddle Restaurant in Waynesburg for 15 years and as a cook at Abe's Restaurant in Mt. Morris.    

            Her former Husband Donald Haines died in November of 1984.  Surviving are 2 Daughters: Donna Russo (David) Zwerver, of Waynesburg, PA., Michelle (Clyde) Harrison, of Ruff Creek, PA.,

4 Sons: Donald (Kathleen) Haines, Jefferson, PA., Robert (Beverly) Haines, of Myrtle Beach, SC., Samuel Haines, of Waynesburg, PA., and John (Shelley) Haines, of Ruff Creek, PA.

16 Grandchildren and 30 Great Grandchildren. 2 Sisters: Bonnie Gail Lemley, of Aleppo, PA., and Dixie Christopher, of Carmichaels, PA., 1 Brother: Thomas Rogers, of Laurinburg, NC.,

and several nieces and nephews.

 Deceased are 1 Daughter: Candice Colleen Haines, and 1 Brother: Sam Rogers.

 Friends will be received on Wednesday, August 2, 2017  from 6:00 PM to 8:00 PM in the Milliken and Throckmorton FH,Inc. Daryl L. Throckmorton Owner/Director,197 N. Maiden St Waynesburg, PA 15370 There will be additional visitation on Thursday, August 3, 2017 from 10:00 AM to 11:00 AM the time of the service at the First Church of the Nazarene 115 Deerfield Lane Waynesburg, PA. 15370 with Pastor Chris Siordia officiating.  Burial will be in Greene Co. Memorial Park, Morgan Twp, Greene Co.,PA.  Information is online at www.milliken-throckmortonfh.com.
Previous Events
funeral service
First Church of The Nazarene
First Church of The Nazarene, 115 Deerfield Lane, Waynesburg, PA 15370