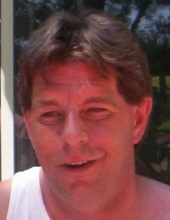 Obituary for John Brett Ketchem
John Brett Ketchem, 57, of Waynesburg, PA, died at 8:14 PM Monday, May 21, 2018 in the Washington Hospital in Washington, PA.
He was born Friday, May 5, 1961 in Waynesburg,PA a son of John R. and wife Penny Ketchem and the late Sharon Taylor Marchaza.
Mr. Ketchem belonged to AA, and loved being involved in Smart Recovery programs and enjoyed music and motorcycles. Mr. Ketchem was in a band named Flight Risk and served as the lead guitarist. He really enjoyed helping people in recovery and was a certified recovery specialist. He worked as a supervisor with his father at Ketchem Construction. Surviving are 3 Sisters: Sandra "JoJo" Ketchem of Graysville, PA, Kiperly and husband Eric Whitlatch of Waynesburg, PA and Dana and husband Gary Calvert of Spraggs, PA. 1 Brother: Aaron Ketchem and Fiance' Angel Villers of Waynesburg, PA and several nieces and nephews.
At the request of the deceased there will be no public visitation. A public memorial service will be held by the family at a later date. Milliken and Throckmorton FH,Inc. Daryl L. Throckmorton Owner/Director,197 N. Maiden St Waynesburg, PA 15370 are in charge of arrangements. Burial will be private and held at the convenience of the family. The family asks that donations be made to the funeral home to help with costs. Information is online at www.milliken-throckmortonfh.com.