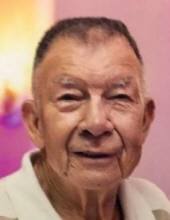 Obituary for James Raymond Fordyce
James Raymond Fordyce, 81, of Brave, PA, died at 2:16 AM Saturday, August 19, 2017, in the Washington Health System Greene ER in Waynesburg.

 He was born Thursday, April 09, 1936 in Greene County, PA. A son of the late Minor J. Fordyce and Virginia Presock Fordyce.

  Mr. Fordyce was Methodist by faith. He was a member of the D.A.V. #123 of Waynesburg and was an active volunteer for the Salvation Army and the Greene County Food Bank. He loved working on tractors, taking care of his garden and hunting. Mr Fordyce loved his 2 dogs Pugsy and Tubby. He had worked as a laborer at the brickyard, and the sawmill in Rogersville, PA. He also had worked at the Waynesburg Feed Store. 

 He is survived by his Wife: Viola Anderson Fordyce,  whom he married on October 23, 1973.

 Also surviving are 7 Daughters: Irene Cooke, of Waynesburg, PA., Diane Foley,of  Daybrook, WV., Grace Eddy, of  Aleppo, PA., Cathy Kerik, of Clarksville, PA., Carol Gooden, Carmel Knisely,, and Pam Timm, all of Waynesburg, PA., 6 Sons: Gary Fordyce, of Sycamore, PA., Lloyd Kennedy, of New Freeport, PA., Brian Kennedy, of Waynesburg, PA., Pat Fordyce, Kelcey Fordyce, and Danny Fordyce, all of Bentleyville, PA. Several grandchildren, great grandchildren and great great grandchildren.

2 Sisters: Grace Conklin, of Waynesburg, PA, and Mildred Johnson,of  Springfield, IL., 1 Brother: Paul Fordyce, of the state of WA., and several nieces and nephews.

 Deceased are 2 Daughters: Karen Fordyce and Barb Fordyce, 1 Son: William Curtis Kennedy, 2 Sisters: Marlene Bennett and Shirley Caviness

 Friends will be received from 2:00 PM to 4:00 PM and 6:00 PM to 8:00 PM on Tuesday, August 22, 2017 in the Milliken and Throckmorton FH,Inc. Daryl L. Throckmorton Owner/Director,197 N. Maiden St Waynesburg, PA 15370 where services will be conducted at 11:00 AM Wednesday, August 23, 2017 with Rev. Dr. Edward Woods officiating.  Burial will be in Rosemont Cemetery, Rogersville, PA.  Information is online at www.milliken-throckmortonfh.com.
Previous Events
funeral service
197 North Maiden St
197 North Maiden St, Waynesburg, PA, 15370 Friends will be received at the Waynesburg Funeral Home on Tuesday, August 22, 2017 from 2:00 PM to 4:00 PM and 6:00 PM to 8:00 PM. Funeral services will be held on Wednesday, August 23, 2017 at 11:00 AM with Rev. Dr. Edward Woods officiating. Burial will be at the Rosemont Cemetery, Rogersville, PA