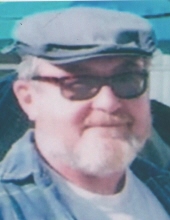 Obituary for James L. "Sugar Bear" Barnes
James L. "Sugar Bear" Barnes, 65 of Waynesburg, PA, died on Tuesday, July 10, 2018 at home following a lengthy illness. He was born Monday, August 11, 1952 in Waynesburg, PA a son of the late Jack L. Barnes and Marcheta Nichols Clark.
Mr. Barnes was a lifelong resident of Greene County. He was a member of the First Christian Church in Waynesburg, PA. Mr. Barnes was a veteran, having served with the US Airforce in both Germany and England. He worked as a mixer driver for Raymont Construction in Waynesburg, PA as well as at Wiley's Concrete in Washington, PA. Mr. Barnes also worked as a coal miner for a few years. He really enjoyed riding motorcycles and taking vacations in Florida. Mr. Barnes was a pilot, owning his own plane and he loved to fly model planes as well. He is survived by 2 Sisters: Jacqueline Sue Abell of Santa Fe, NM and Joyce L. (Gary) Mankey of Waynesburg, PA. 1 Brother: J. Allan Barnes of Waynesburg, PA and 1 Step-Brother: William Milton Davis Jr. Several nieces and nephews and great-nieces and great-nephews survive. Deceased is 1 Brother-in-Law: Arthur Abell Jr.
At the request of the deceased there will be no visitation or services. Interment will be private. The family suggests memorials be made to Concordia Hospice of Washington 10 Leet St. Washington, PA 15301 Milliken and Throckmorton FH, Inc. Daryl L. Throckmorton Owner/Director,197 N. Maiden St Waynesburg, PA 15370 are in charge of arrangements. Information is online at www.milliken-throckmortonfh.com.
Cemetery Details
Location
All services and burial are private.