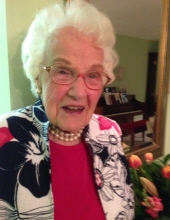 Obituary for Helen Murdock Meighen
Helen Murdock Meighen passed peacefully to her eternal home on December 17, 2017, at the age of 100 years. She will be lovingly remembered and greatly missed by her three daughters and sons-in-law: Nancy and Jack Biel; Mary and Ross Carnes; and Helen Marie and Steve Ullestad; as well as eight grandchildren and ten great-grandchildren. She was predeceased by her husband of 55 years, James B. Meighen, and her son, John Murdock Meighen.
Helen was born on her parents' farm near Waynesburg, in Greene County, Pennsylvania on March 15th, 1917, the only child of Arleigh Jacob Murdock and Goldie Zimmerman Murdock. She attended a one room country school through the eighth grade and graduated from Waynesburg High School in 1934. Helen studied piano for many years, a talent she shared with others throughout her life. She graduated in 1938 with a degree in painting and design from Carnegie Institute of Technology (now Carnegie Mellon University) in Pittsburgh, PA. During that time, she became a member of the Associated Artists of Pittsburgh and had paintings exhibited at the Carnegie Museum of Art. Following graduation, she worked at Perry Photography Studio in Pittsburgh tinting photographs and then worked for Bell Telephone Company doing lettering and layout for directory advertising.
Helen and Jim were married in 1944 and moved to Monongahela, PA, where they raised their four children. They were active members of the United Methodist Church of Monongahela. Helen also enjoyed many clubs and activities including the Mother's Club, the Bridge Club, the Daughters of the American Revolution, and the AARP.
In 2004, after the death of her husband, she moved to the Seabrook Retirement Community on Hilton Head Island where she flourished for the next 13 years. A life-long Methodist, Helen attended Sunday school and church faithfully throughout her life. While living on Hilton Head, she was a member of St. Andrew-by-the-Sea United Methodist Church.
Helen charmed everyone she met with her soft-spoken humor, warmth, and kindness. Her ability to play the piano by memory well into her nineties continually amazed people. She will be missed by many who remember her humble, gentle spirit and ever-ready smile. Helen was a role-model for her family and lived a life that exemplified the love of Christ. She entered the loving arms of Jesus surrounded by her devoted family.
A memorial service will be held on Wednesday, December 20, 2017 at 11:00 a.m. at Fordyce United Methodist Church in Fordyce, PA, the church she attended as a child. Interment will be at Greene County Memorial Park in Waynesburg, PA. Memorial donations may be made to the United Methodist Committee on Relief (UMCOR), Advance GCFA, PO Box 9068, New York, NY 10087-9068, or you may donate online at www.umcor.org . Friends and family are invited to visit Helen's memorial page at http://memorial.yourtribute.com/Helen-Meighen. MIlliken and Throckmorton Funeral Home, Inc. Daryl L. Throckmorton Owner/Director 197 N. Maiden St. Waynesburg are in charge of arrangements. Information on line at www.milliken-throckmortonfh.com.
Previous Events
memorial service
Fordyce United Methodist Church
201 Fordyce School Road
Waynesburg, PA 15370
A memorial service will be held on Wednesday, December 20, 2017 at 11:00 a.m. at Fordyce United Methodist Church in Fordyce, PA, the church she attended as a child. Interment will be at Greene County Memorial Park in Waynesburg, PA. Memorial donations may be made to the United Methodist Committee on Relief (UMCOR), Advance GCFA, PO Box 9068, New York, NY 10087-9068, or you may donate online at www.umcor.org . Friends and family are invited to visit Helen's memorial page at http://memorial.yourtribute.com/Helen-Meighen. MIlliken and Throckmorton Funeral Home, Inc. Daryl L. Throckmorton Owner/Director 197 N. Maiden St. Waynesburg are in charge of arrangements. Information on line at www.milliken-throckmortonfh.com
Cemetery Details
Location
Greene County Memorial Park
1003 Jefferson Road
Waynesburg, PA 15370