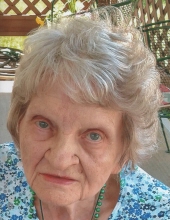 Obituary for Grace L. Johnson
Grace L. Johnson, 87, of Waynesburg, PA, died at 2:00 AM Tuesday, January 02, 2018 in Waynesburg Healthcare and Rehabiltation in Waynesburg, PA.
She was born Saturday, March 15, 1930 in Rices Landing,PA a daughter of the late Frederick DeMurry and Maude Leichliter DeMurry.
Mrs. Johnson was the last of her immediate family. She attended various schools in Greene County during her youth. During the late 1950's she moved to Fairmont, West Virginia where she worked for Westinghouse Corporation. Previously, she was employed at Berkowitz Shirt Factory in Waynesburg, PA. On June 6, 1963 she married the late Willis D. Johnson. Surviving is her son Emory Johnson and his wife Virginia of Waynesburg. Many nieces and nephews also survive. She never drove, but enjoyed walking uptown to Waynesburg. Her final years were spent at Waynesburg Healthcare and Rehabilitation Center, where she was a beloved resident. While there, she was crowned the first Miss Senior Rain Day Queen in 2011. This was of special significance to her, having been fortunate to guess twice in her lifetime the exact time it would rain for the annual Rain Day contest. She was an avid reader. She enjoyed cooking, baking and working in her yard. She was a homemaker and loved to keep her home immaculate. All who knew her were touched by her kindness and compassion. The family wishes to thank the staff at Waynesburg Healthcare and Rehabilitation Center for the outstanding care they provided. The family also wishes to extend appreciation to her very dear friend, Lorraine Orndoff for her abiding friendship and visits to Grace. At the request of Mrs. Johnson, there will be no public visitation. A Memorial service will be held at a later date.
Milliken and Throckmorton FH,Inc. Daryl L. Throckmorton Owner/Director,197 N. Maiden St Waynesburg, PA 15370 are in charge of arrangements. Burial will be in Rosemont Cemetery, Rogersville, PA. Information is online at www.milliken-throckmortonfh.com.