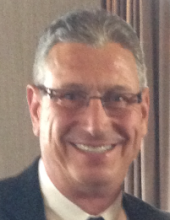 Obituary for Donald S. Albert
Donald S. Albert, 63, of Waynesburg, PA, died at 6:20 PM Sunday, June 24, 2018, at home.
He was born Saturday, February 12, 1955 in Waynesburg, PA. A son of the late Edward Albert and Rose Bartolovich Albert of Washington, PA.
Mr. Albert was a member of the St. Ann Roman Catholic Church in Waynesburg. Mr. Albert was a 1973 graduate of Central Greene High School where he not only served as president of his class but was a Multi-Sport Stand-Out in football and track. After high school he received an appointment to West Point but chose to accept an offer from Slippery Rock College to continue playing football. He transferred a year later to Waynesburg College where he played 3 years with his younger brother Bob on the same team. Here at Waynesburg College as in high school he was highly decorated for his achievements with both State and National awards. While off the field his training regiment and leadership inspired others in their own pursuit of excellence. He was a mentor and a great leader.
He loved to play golf and enjoyed the farm. He began working with his father at the Albert's Restaurant in Waynesburg where he spent most of his working life. He later worked as manager of the Rohanna's Restaurant in Waynesburg and then worked for13 years in sales at the Bortz Chevrolet in Waynesburg.
Surviving in addition to his Mother is 1 Daughter: Amelia Papapetropoulos and her husband Aristeidis, of Pittsburgh, PA.,
1 Son: Alex Roncone, of Bridgeville, PA., 1 Granddaughter: Penelope, 2 Sisters: Patricia Albert of Wheeling, WV., Anita Lanoy and her husband Rick of Washington, PA., 2 Brothers: John Albert, and his wife Pam, of Waynesburg, PA., and Robert Albert, and his wife Cindy, of Pittsburgh, PA, the mother of his children Peggy Albert of Houston, PA. and several nieces and nephews.
At the request of the deceased there will be no public visitation. A private memorial service will be held by the family at a later date. The family ask that in lieu of flowers donations be made to the Humane Society of Greene County 183 Jefferson Road Waynesburg, PA. 15370. Milliken and Throckmorton FH, Inc. Daryl L. Throckmorton Owner/Director, 197 N. Maiden St Waynesburg, PA 15370 is in charge of the services. Interment will be private. Information is online at www.milliken-throckmortonfh.com.
Events