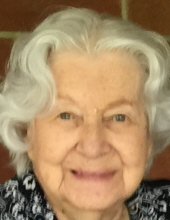 Obituary for Alberta "Trudy" Kennedy Grimm
Alberta (Trudy) Kennedy Grimm, 97, of Washington and formerly of Mount Morris, PA died September 25, 2017 in Washington Hospital after a brief illness. Trudy was born on August 12, 1920 in Wheeling WV, a daughter of the late Anthony Francis Miller and Elsa Jung Miller. She was a registered nurse having graduated from the Ohio Valley School of Nursing in 1941. During World War II she worked for Dr. Mahan in Mount Morris where she was the nurse midwife. After the war, she worked for several decades as an occupational nurse for the Shannopin Mining Company in Bobtown and the Gateway Coal Company in Ruff Creek. Perhaps her greatest success during her decades long nursing career was her concern for the safety and well being of hundreds of Greene County Coal Miners under her care.She was a lifelong member of the Catholic Church having served on the Parish Council at St. Ignatius Parish in Bobtown for many years.For nearly 50 years, she was married to John Henry Kennedy until his death in 1991. They owned a farm in Mount Morris while raising their three children and grandson. In 1997, she married William Grimm and resided in Lady Lake, Florida until his death in 2000. In addition to her parents, Trudy was preceded in death by 2 sisters, Susan Miller Williams and Elsa Jane Miller Supan. Trudy is survived by two siblings, Anthony Miller and Dolly Miller Codol; her three children, Esther Kennedy Nix, Suzanne Kennedy Skvarch and John Thaddeus Kennedy; three grandchildren, Russell Nix, Abby Skvarch, and Anna Kennedy; many nephews and nieces especially Connie Supan Dvorak and Kathy Supan Jeffers.The family wishes to thank the doctors, nurses and staff at Washington Hospital Seventh Floor South and Sixth Floor East as well as the managers and staff at Strabane Trails and Woods for their gentle yet professional care for Trudy. Memorial contributions may be made to the Strabane Trails Benevolent Fund, 317 Wellness Way Washington, PA 15301. Services and internment will be private and held at the convenience of the family.
Milliken and Throckmorton FH,Inc. Daryl L. Throckmorton Owner/Director,324 Mt. Morris Road, P.O. Box 478 Mount Morris, PA 15349 are in charge of arrangements. Information is online at www.milliken-throckmortonfh.com.
Cemetery Details
Location
All services and burial are private.